Burn Ban is ON as of 7-10-2020.

Park Reservations
We have 11 RV areas ($20/night) and 5 tent areas ($5/night) that are marked off and fees go towards grounds and maintenance. These are first come, first serve basis, the areas are on the Park map on the River Park page. See the Community Calendar to know how many reservations have already been scheduled.  We ask that you continue to practice safe Social Distancing. The link below has additional information that was provided by Comal County. 
Comal County COVID information 
New Braunfels information

We have 2 fire pits at our park, one by the tent area and one closer to the river. When building a fire take into consideration the wind speed and safety for all.  Park closes at 10:00 so remember to show respect to neighbors who live close to the park and other campers.

OAK WILT
When trimming your oak trees, a scar must be painted within an hour of the cut. Tar paint is the best paint to use. Please help us keep our property values, we don't want OAK WILT to destroy our beautiful community. Thanks

ACC Reminder
All structures and designs that add value to your property, require a submission to the ACC Committee for their approval.  Visit the Requests & Contacts page and then ACC Request to view the requirements to submit.

Unknown Cards
Please contact me (text or call 210-865-1454) if you own the following park cards so I can update the system:
32128 and 32129; 44776; 64153 and 64154; 63631


Card Reader Update
Please do not hesitate to contact any Board Member or Neighborhood Watch Member, if you have issues with the readers or gates. 

CSPOA Annual Dues Information
Annual Dues are due on 1/1/2021 and are late after 1/31/2021.
Dues are $120.00 for a single lot and $240.00 for two or more lots.
Payments may be sent to the POA at 1301 Phantom Rider Trail, Spring Branch, TX 78070.
Invoices are sent by email ONLY when late charges occur.  If you have not received one as yet or wish to pay on-line, send your email to [email protected] and one will be sent to you.


Monthly BOD Meetings
The Board will be meeting the 3rd Monday of each month at 6:30 at our River Park and on Google Meet due to COVID19.  See our Community Calendar for our Meet address.

CSPOA Annual Meeting September TBA, 2020 at 11:00
Join us at Pavilion 1 for our Annual Meeting at 11:00 with BBQ to follow. We will provide chicken, water, plates and utensils.  You can bring a side dish and the beverages of your choice. Please read the 2018 Annual Meeting draft located under the Board Meetings Tab.  We will be voting on 3 Board Member positions and 1 ACC Committee Member.  If you are interested in volunteering for either position please call/text me at 210-865-1454.  Information will be mailed out soon.  We moved the date so you can enjoy the Bulverde Jubilee so we hope you join us.

RESALE CERTIFICATES
REQUESTING CHANGES TO YOUR PROPERTY


Our History
Cypress Springs Development is a community of near 500 residences on tracts of land ranging from half an acre to over 5 acres in size. Our community sits along a stretch of the beautiful Guadalupe River in Spring Branch, Texas at the cusp of the Texas Hill Country. We love our river, the hills, the wildlife and our quiet living. If you find yourself with an opportunity to become a part of our wonderful community, you should take advantage of it and start living the good life.

Our Little bit of History:
       A significant portion of Spring Branch (known today as the Cypress Springs development) that borders the Guadalupe River was first settled by German native Adam Becker (1815-1901)
       Becker journeyed to Texas in 1845 to join Prince Carl of Solms-Braunfels in establishing a colony on behalf of the Adelsverien, also knows as the German Emigration Company.  Becker contributed to the building of Fredericksburg, Texas, and assisted with other aspects of the colony.
       He married Elizabeth Monken and by 1852 had established his homestead on what is now Phantom Rider Trail in Spring Branch.  On his homestead he raised cattle.  The house he built for his family, which was privately restored in the first decade of the 21st century, was constructed of locally quarried stone and hand-hewn cypress from the banks of the nearby Guadalupe River.  Adam Becker became a United States Citizen in 1860 and upon his death in 1901 was buried in the cemetery on his homestead.  The headstone is located on the back end of the original property, not at the family cemetery.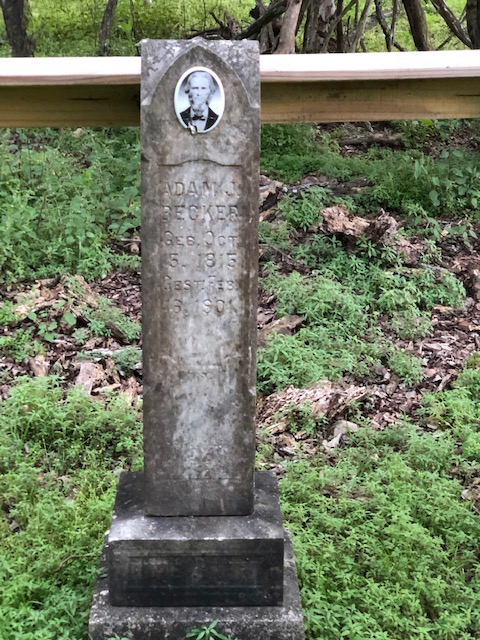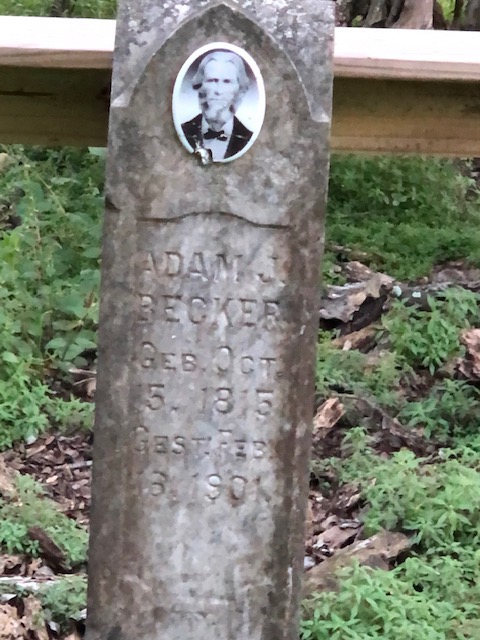 Thank You Steven Dunn for the beautiful photos of our neighborhood and wildlife.